50th Anniversary Dinner & Dance
back

On Saturday, April 19, 2008, we celebrated a major milestone at Ingeniørenes Hus in Oslo: Our 50th Anniversary Party marked 50 years of Canadian clubs in Norway, dating back to the founding of the Canadian Women's Club (CWC) in 1958. Around 65 of us enjoyed an evening of good company, fine food, inspiring speeches, and dancing into the wee small hours.

Special thanks to Janette Fjeldstad, Gabriele Haddrath and Jay Gustafson for doing a wonderful job of arranging this very special evening.

Photos by Derek Toward and Glenn Martin (but mostly Derek!).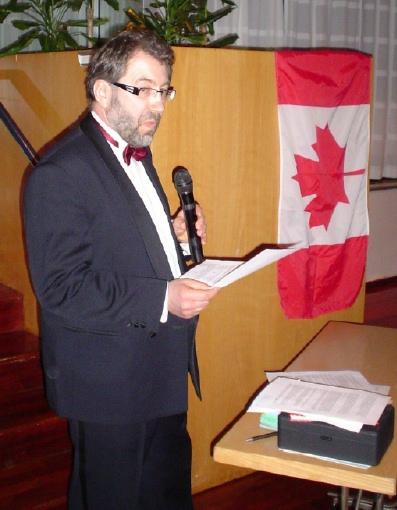 Canadian Club President Jay Gustafson was our Master of Ceremonies for the evening.


Margaret Wold, one of the founding members of the Canadian Women's Club, touched us all with the story of the CWC's origins ...


... and Arne Bruheim did the same on behalf of the Canadian Club of Norway, which he co-founded in 1991.
Dag Adler Ruud (right) was the lucky winner of the door prize: a trip for two to Toronto or Halifax courtesy of Icelandair! Thanks to Icelandair and to Jaye Smith for securing the prize.